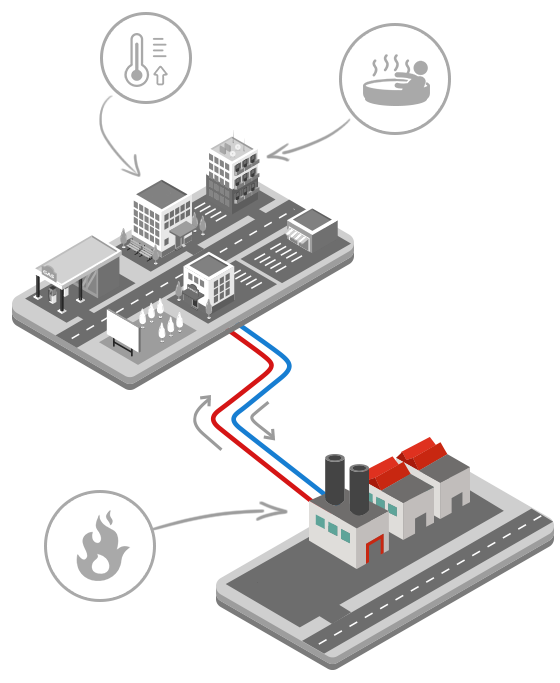 FEES FOR CONNECTION
Fees for connection of single-family houses:
Connection of single-family houses are in some casest possible. It all depends on where you live in relation to routes of the district heating pipes. Some interested customers can not be taken with due it is simply unprofitable to build. Consumption is also quite small for a family house. The cost of the connection of a single-family houses with a maximum of 250 m2 heated floor area, which connects the following:
Connection fee is € 3000.00 (No VAT applies). The fee includes heating connection completely assembled into the house, including energy meter. This cost must be paid by all who wish to join the district heating network. Management cost is € 80.00 / m for customers to build for every additional meter above 15 m from the main pipeline.
Heat exchanger installations can be performed by a freely selectable entrepreneur. Note however that the installations on the primary network (until the energy meter), due to high temperatures and pressures, should only be performed by Narpes District Heating Ltd approved qualified contractor. On the secondary side, no separate approval mechanisms of heat company.
Local contractors quotes have been shown to lie at around € 5000.00 for the installation of heat exchanger package. Only works on the secondary network may be done by local contractors (after the energy meter). What is included in the quotation should be addressed with the contractor. In case you select a local contractor to perform the work for the energy meter. Welding works between energy meter and the heat exchanger should be performed by a certified person approved by Narpes District Heating Ltd.
Total Price:
| | |
| --- | --- |
| Connection: | 3.000,00 € |
| Heat exchanger package of a localentrepreneur about: | 5.000,00 € |
| Total: | 8.000,00 € |
Please contact a local contractor for a quote regarding the installation of the boiler room.